We have HUNDREDS of health and wellness products and brands available for sale!
For other products see our Products page. Below is just a quick on-line purchase option for our MAP customers.

Amino Acids - Master Amino Acid Pattern (MAP)
A unique and proprietary blend of the eight essential amino acids the body needs to support and strengthen its muscular, skeletal, enzymatic and hormonal systems. Unlike other incomplete amino acid blends or protein powder supplements, Master Amino Acid Pattern (MAP) has been clinically proven to be rapidly absorbed and fully utilized by the body. As a result, it fuels the body without generating metabolic waste. Research has proven this product to be almost 100% utilized by the body and three times more effective than protein powders in providing your body with the foundational building blocks it needs for optimal cellular function, maintenance and repair.
Standard Shipping (3-5 Business Days) for Amino Acids is FREE in United States
Need It Faster? Upgrade at Checkout to Expedited Shipping (2-3 Business Days) for $10 for ENTIRE Order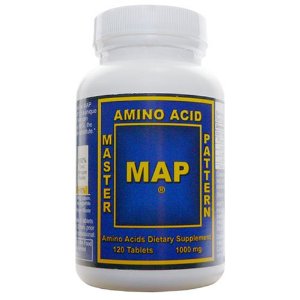 Master Amino Acid Pattern - MAP (120 count)
The original and still going strong
$32 - NOTE: Shipping delayed until Monday, July 31st. Apologies for the delay!